Usage Report
Creating Usage Report:
In order usage report, Choose Reports from the menu.
In reports, you will be seeing three tabs namely, generated reports, custom reports and compare.
Turn on the settings mode (on the top right corner).
Choose Generated report
You will see different types of reports (highlighted in yellow color).
Choose 'Create usage report'. Then you will see a tab slide up (as shown below).
Enter all the required details such as name, correction factor, unit, workspace, device and parameter (rpm, current, frequency, heat sync temp) of your choice.
Then click 'create' button so that the usage report will be created and be displayed (as shown below).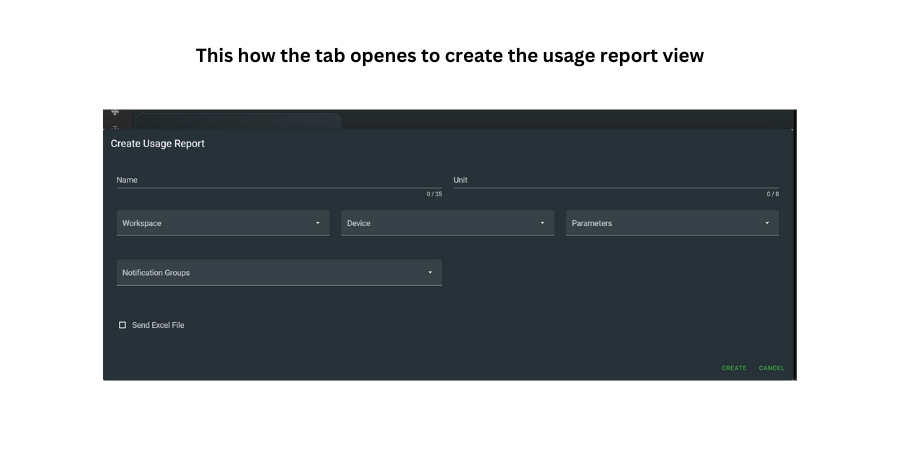 Updating/deleting usage report:
In case you need to make any changes to the created usage report you can make it by clicking the pencil icon (which is used to edit and modify)
You will see the same tab which you used to create the report there you can make changes of your choice.
Once you have made changes you can click 'Update' button on the bottom.
Your changes will be updated and displayed.
In case you wish to delete the created report, you can use the delete icon near to the pencil icon and delete the created usage report when it is not required.
Directions to use:
When you hover over the created usage report you can see 'view details' (highlighted in green)
Click on the 'view on the details '.
Then you will see a page (as shown below).
You can see the usage report using from/to date and you can view your report in a graphical representation as line/bar.
You will also be able to download it as pdf in case you need it using 'download pdf' option.
Next, you can see a table representing the date and usage report of kwh listed out.
You can also download it as a pdf using 'download table' option.